My career up to this point has been built on training the everyday horse for everyday things.  Trail riding, trouble shooting, obstacles etc…  I have competed extensively in the cowboy racing world and loved it!  But last year, I finally had a team to help me run the barn, Bob and Susan Brennan Owners, Dusty LaBeth Manager/business director, Beth Olson Trainer.  These individuals made it possible for me to spend more time improving myself and showing.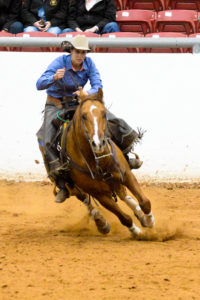 With this added help, I stuck my toe in the cowhorse and ranch versatility worlds.  I had a couple of nice client horses to show.  I felt very confident in my ability to train and show in Ranch Riding and Trail, which I proved to be successful at on the local QH circuit.  But the learning curve for training for the reined work and the cattle classes was STEEP.
I was fortunate enough to have access to one of the best horseman in the reined cowhorse industry: Brad Lund.  He continues to be an enormous help to me as I continue to build my skills both in the reining and the cattle work.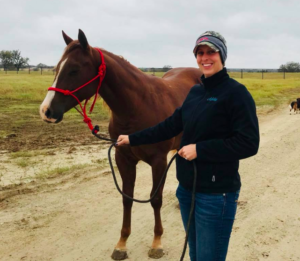 It became pretty clear mid way into the show season in 2018 that my personal quarter horse, Jesse was becoming a superstar cowboy racing horse, and was going to be quite challenging to retrain into the versatility world.  Being a trainer that believes in allowing horses to play to their strengths, I decided to sell him and start over.  Knowing literally nothing about cowhorses, bloodlines, breeders etc… I went to Brad for help.  He picked out a very cute long yearling filly off of the Stuart Ranch in southern Oklahoma.  I picked her up on the way home from the 2018 EXCA world finals, where Jesse had made top 10 in a very tough Open division.
It was definitely a tough decision to make considering I had also had Jesse from a long-yearling.  But sometimes, I think it is important to recognize what our horses are good at and what they aren't and let them continue in a job they feel successful in, even if that has to be with another person.  For me it was a critical career decision that would feed my desire to improve myself beyond my current level of riding and step up to a higher caliber horse.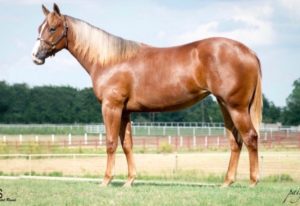 To the left is a copy of Sedona's papers.  Her sire Smart Boons, had a LTE of over $190,000 in the National Reined Cowhorse Association. On her dam's side her grandsire Real Gun showed grit and talent in both the NRCHA and as a rope horse in AQHA.  Winning the 2004 AQHA Superhorse which is awarded to the horse that earns the most points in three or more Level 3 events in three categories during the show, Real Gun made a name for himself as a stud at the Stuart Ranch.
None of this guarantees Sedona will be a success in the cowhorse or versatility worlds, but it sets her up to be a great prospect.  I am looking forward to the journey with Sedona and will be blogging updates along the way!
- Ashley Purdin